A week ago today I was watching my colleagues present while scared out of my mind over my impending talk at WordCamp San Francisco: What You Don't Know You Can Do: WordPress Development for Absolutely Everyone.
I had spoken at a few WordCamps before, but this was the big one AND was being live streamed. For some reason the live stream folks freaked me out more than the audience at the venue. However, I warmed up with some yo-yo tricks and was feeling good by the time I started speaking. I really do love talking to people about WordPress and that makes it easier.
I had a fantastic time at WCSF. I learned a lot, met a ton of awesome folks, and participated in Contribute day answering support questions. Helping people in the support forums is addictive, and I plan on continuing to contribute to the WordPress community.
I was very impressed with the number of Women involved with WordPress.
The afternoon of my talk was filled with great female presenters: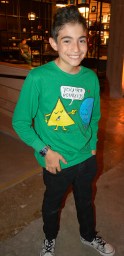 The after party at Automattic headquarters was super fun as well. I met a cool 13 year-old kid named Noah. He showed me where all the cool swag was. I have no doubt he will be working there some day.
I also ended the party playing Rock Band which is my favorite video game ever.
I am already looking forward to WCSF 2014 and bringing more of the YIKES gang there with me.
Thank you to all the organizers and volunteers for putting on an amazing conference. See you next year!